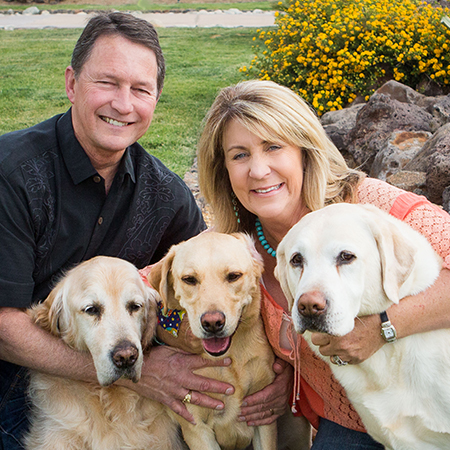 Our Story
In the summer of 1994, my wife Traci rescued our white lab Winston.
Winston was diagnosed with arthritis and hip dysplasia. Several veterinarians recommended putting him down, but this was never an option for us. We began researching alternative medicine while working with Dr. Pedro Rivera, a renowned holistic veterinarian. 
After several months, we developed a natural joint formula that gave Winston a second chance at life. Winston went on to enjoy ten long years of playing and swimming with his brothers. We soon found others who wanted only the best for their pets as well and VETCLASSICS, our exclusive complementary pet health supplements were born.
---
For over 25 years, we have been manufacturing products to ensure the superior quality of life our pets deserve.
---
VETCLASSICS products are high quality formulations developed by our staff scientists and veterinarians Dr. Pedro Rivera, DVM, FACFN, DACVSMR, and Dr. Ihor Basko, DVM. VETCLASSICS products are an exclusive, complementary pet health supplement line. The Garmon Corporation stands behind every product with a 100% Money Back Guarantee direct from us to your client.
Garmon Corp. is a fully compliant cGMP Standards facility, following the highest industry standards. We are an FDA registered and audited facility, as well as third party audited by U.L. Labs.
We are also an NASC Audited Member carrying the NASC Seal on our labels, providing a symbol of "quality assurance" for consumers.